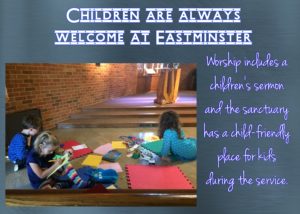 We love and value our children and youth as an important part of the church family.
All ages are always welcome in worship. Each week we provide a children's worship packet with activities related to the elements of the worship service. There are also worship bags with a variety of quiet activities that children may use during the sermon time. There is a child-friendly place at the front of the sanctuary where children can gather during the service or they may stay with you in the pews.
Should your children need to leave worship service, you may take them to the Green Room directly across from the Sanctuary where there are comfortable chairs and you may hear the service.
We also offer special classes called "Children and Worship Education" throughout the year for kids age 4 through grade 5. Children will engage with the Children and Worship curriculum, as well as learn and practice the various parts of the worship service from the call to worship to benediction and everything in between. Watch here for the next series of classes that help our kids learn and understand how to more fully participate in Sunday worship.