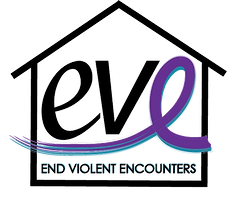 Founded in 1977, the Council Against Domestic Assault (CADA) began with a group of concerned community members who wanted to help support their family, friends, and neighbors. The Council Against Domestic Assault grew to include Lansing's first domestic violence shelter and supportive services for survivors and their children. In recent years, CADA changed its name to EVE (End Violent Encounters) to reflect EVE's comprehensive services to survivors.
​
Today, End Violent Encounters has grown to provide supportive services such as advocacy, medical advocacy, counseling, crisis intervention, children's programs and community education to survivors of many forms of violence including domestic, sexual, stalking, and elder abuse.
THEIR MISSION
To support domestic and sexual abuse survivors on their journey of healing and empower our community through education and awareness.
EVE, End Violent Encounters is a 501(c)3 nonprofit that provides supportive services to survivors of domestic and sexual violence, stalking and elder abuse.
PO Box 14149 Lansing, MI. 48901
Admin Office: 517-372-5572