The Session consists of the pastor and the elders in active service.  Each class of elders consists of four members elected by the congregation to serve a three year term.  The Session meets monthly to carry out its responsibilities for the mission and governance of the church.  
Moderator: Rev. Kristin Stroble
Clerk of Session: Susan Smalley
Treasurer: Bob Kleine
| | | |
| --- | --- | --- |
| Class of 2022 | Class of 2023 | Class of 2022 |
| Mike Jones | Robin Bell | Mike Brown |
| Estelle McGroarty | Dave Duryea | Ron Davis |
| Susan Smalley | Heather Myer | |
| Bob Walter | | |
Administration and Finance: Dave Duryea*, Susan Smalley
Building and Grounds: Mike Jones (building), Ron Davis (grounds)
Christian Education: Mike Brown*
Mission: Estelle McGroarty*
Worship & Music: Robin Bell*,  Bob Walter
Community Life: Heather Myer*
* Indicates committee chair
Robin Bell
Dave Duryea
Mike Jones
Robert Kleine
Robert Kleine has been a member of the church since 2004. He has served as an elder and has been treasurer for the past 10 years. He served as treasurer of the State of Michigan from 2006 to 2011 and was the Interim Director of the MSU Center for Local Government Finance and Policy from September 2016 to June 2018. He lives in East Lansing with his wife Judy Karandjeff. They have 5 children and 10 grandchildren.
Estelle McGroarty
Estelle McGroarty initially joined  Eastminster in the early 1970's but left in the mid-1980's when she and her family moved to Holt.  We rejoined in 2003 when we moved to Dewitt.  In the past she has served as an elder, Sunday school teacher and member of the Pastor Nominating Committee. Currently, in addition to serving as a deacon, she is a member of the mission committee. She is a retired faculty member and administrator at Michigan State University, and has 2 children and 6 grandchildren. Over the years, Eastminster has been a strong spiritual support for our family.
Susan Smalley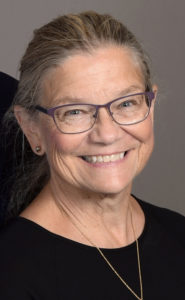 SUSAN SMALLEY serves as Clerk of the Session. She is a member of the Christian education team because she enjoys planning and leading some of Eastminster's adult classes. She is a regular Advent House cook and a contributor to community outreach activities. She values Eastminster's atmosphere of caring — for its members, for its community, for the world. Her hope is that Eastminster's people of faith and conscience support one another and inspire others as they advocate for moral and just policies and practices in the world around us. Susan and her husband, Jim Artabasy, are retired from MSU and divide time between East Lansing and their lake home in Horton.