The Session consists of the pastor and the elders in active service.  Each class of elders consists of four members elected by the congregation to serve a three year term.  The Session meets every other month to carry out its responsibilities for the mission and governance of the church.  On alternate months there is an all-committee night where each committee meets to conduct its business.
Moderator: Rev. Kristin Stroble
Clerk of Session: Susan Smalley
Treasurer: Bob Kleine
| | | |
| --- | --- | --- |
| Class of 2020 | Class of 2021 | Class of 2021 |
| Robin Bell | Gary Blanchard | Steve Dickinson |
| Dave Duryea | Mary Lou Clifton | Mary Lou Clifton |
| Mike Foster | Mary Harvey | Estelle McGroarty |
| Neil Myer | Mike Foster | Susan Smalley |
Administration and Finance: Dave Duryea*, Mary Lou Clifton
Building and Grounds: Gary Blanchard (building), Mike Foster (grounds)
Christian Education: Neil Myer, Susan Smalley*
Mission: Mary Harvey*, Estelle McGroarty
Worship & Music: Robin Bell*,  Steve Dickinson
Community Life: Mike Jones, Sam O'Neill*
* Indicates committee chair
Robin Bell
Gary Blanchard
Mary Lou Clifton
Steve Dickinson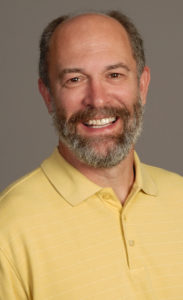 Dave Duryea
Mike Foster
MIKE FOSTER is the grounds half of the building and grounds Elder Ministry. This is my first opportunity to serve as an Elder for our church. I am married to Ruth Foster and have children whose ages range from 46 to 20 years of age. The grounds ministry responsibilities and concerns are things I have experienced in my role as Superintendent of Schools for Perry Public Schools. As a member of our church for the past 20 years, I have found a home for my faith and family at Eastminster Church. I have worked in and around the Lansing area as far back as having worked for REO Trucks, Oldsmobile, The Michigan Commission on Criminal Justice, and four school districts. My goal for "grounds" is to maintain and improve the exterior of our beautiful church's eleven acres so to serve the needs of the congregation, neighborhood and community including MSU.
Mary Harvey
A lifelong Presbyterian, Mary Harvey is a 35-year member of Eastminster.
Over that period she has served as a deacon and elder multiple times, been a member of a Pastor Nominating Committee in the 1990s, been a handbell choir member under several different directors, cooked for Advent House and enjoyed the fellowship of the Page Turners book group.
One of the great blessings of participation is the friendships formed with others that last well beyond the term of office or the length of an ad hoc committee.
Mike Jones
Robert Kleine
Robert Kleine has been a member of the church since 2004. He has served as an elder and has been treasurer for the past 10 years. He served as treasurer of the State of Michigan from 2006 to 2011 and was the Interim Director of the MSU Center for Local Government Finance and Policy from September 2016 to June 2018. He lives in East Lansing with his wife Judy Karandjeff. They have 5 children and 10 grandchildren.
Estelle McGroarty
Estelle McGroarty initially joined  Eastminster in the early 1970's but left in the mid-1980's when she and her family moved to Holt.  We rejoined in 2003 when we moved to Dewitt.  In the past she has served as an elder, Sunday school teacher and member of the Pastor Nominating Committee. Currently, in addition to serving as a deacon, she is a member of the mission committee. She is a retired faculty member and administrator at Michigan State University, and has 2 children and 6 grandchildren. Over the years, Eastminster has been a strong spiritual support for our family.
Neil Myer
Neil is a child of God, lifelong Presbyterian, and Michigan State Spartan. He earned his Master of Arts in Christian Education from Union Presbyterian Seminary in Richmond, VA.  Since seminary, Neil has served churches in Florida, North Carolina, and currently Ohio. Neil  believes deeply in the connectional aspect of our denomination and has served the wider church in a number of capacities including Montreat, Presbyterian Youth Triennium, and Massanetta.  He lived in Lansing for ten years as a child, where his father Norm was pastor of First Presbyterian Church. Neil returned to MSU where he majored in journalism (ask him about his first career in sportscasting) until The Holy Spirit interceded with other ideas. Neil loves sports, french fries (with ketchup) and chocolate chip cookies, and is still on a quest for his first career hole-in-one.
Sam O'Neill
Sam has been a member of Eastminster since 2013.  She recently retired from the Office Administrator position which she held for 7 years.  Sam is in her 2nd term as an elder serving as the chair of the Mission Committee.  Previously she served on Worship and Christian Education committees.  Mission has become a significant focus for her and she is excited about the direction Eastminster is heading with regard to engaging all God's children. She enjoys using her creative talents as a former actor/director for special worship services and other events at the church.  She is married to Jeff O'Neill (Honorably Retired) and the O'Neill's have five children, two grandchildren, and a very special four-legged member of the family, Deacon, a black mutt who is fully installed but not ordained.
Susan Smalley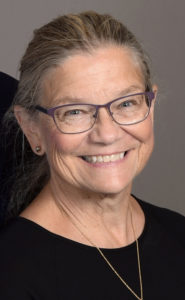 SUSAN SMALLEY serves as Clerk of the Session. She is a member of the Christian education team because she enjoys planning and leading some of Eastminster's adult classes. She is a regular Advent House cook and a contributor to community outreach activities. She values Eastminster's atmosphere of caring — for its members, for its community, for the world. Her hope is that Eastminster's people of faith and conscience support one another and inspire others as they advocate for moral and just policies and practices in the world around us. Susan and her husband, Jim Artabasy, are retired from MSU and divide time between East Lansing and their lake home in Horton.