The primary role of the Deacons at Eastminster is to provide hospitality, member care, and ministries of compassion to our members in cooperation with the pastor.  Deacons are elected to a three year term. The moderator of the Deacons is Beverly Bonning.
Class of 2022
Beverly Bonning*
Sulin Campbell
Judy Dickinson
Class of 2023
Sue Kalvonjian
Brenda Ramsby
Barb Stowitts
Class of 2024
Suzanne Hunt
Cindy Nixon
Beverly Bonning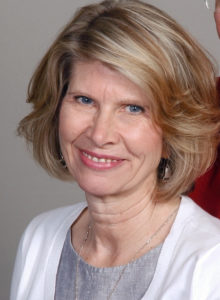 Sulin Campbell
Sulin has been a member of Eastminster Presbyterian Church since 1999.  She is serving her second term as a Deacon.  Sulin enjoys singing in the Chancel Choir and sharing her music with the congregation at EPC.  She has taught at the MSU Community Music School, and has also maintained an independent piano studio in her home in Okemos, for 25 years.  Sulin and her husband Bruce have four children–now grown. (Bruce passed away in 2011. He had served as the  Music Director and Organist at Eastminster for 17 years.) Sulin is happily looking forward to the arrival of their first grandchild in January 2020!
Suzanne Hunt
A new deacon at Eastminster, Suzanne is a native of Philadelphia, Pennsylvania and a twenty-five year resident of Princeton, New Jersey.  She moved to East Lansing, Michigan three years ago.  Suzanne is the wife of Reverend Chase S.Hunt, who served in churches in New York City and Ferndale Michigan and on the staff of Princeton Theological Seminary.  Suzanne was a learning Consultant for many years in the public school system in New Jersey. She has been painting in the medium of watercolor for over thirty years and has a small business, Suzanne Hunt Watercolors. Her art is exhibited at the Shiawssee Art Center in Owosso, Michigan and with The Mid-Michigan Art Guild.
Judy Dickinson